Advantages of a Bathroom Vanity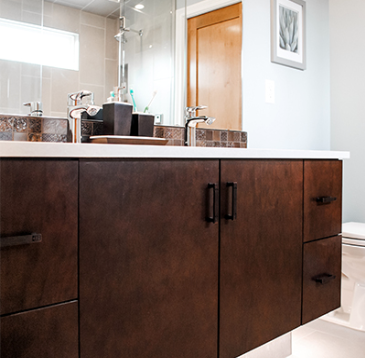 Bathroom vanities are an important component to your home and by selecting the correct size, style and material you can help improve the design and function of your bathroom. Signature If you're considering giving your bathroom a renovation, a vanity should be on your list of must haves to update.
A benefit that a custom bathroom vanity can provide is added space, and it can be done in a variety of ways. For instance, this accessory can be customized with extra cabinets for storage purposes to keep your space clean. It can also be installed just above the bathroom floor, providing extra space underneath for storage or simply making your space feel more open. This is especially appealing for homeowners with less space to work with or for those who have bathrooms with a more constrained layout.
Custom bathroom vanities are also beneficial when it comes to design. Their straight edges and rectangular or square shape can give your home a simplistic and fresh aesthetic. If you aren't looking for as minimal of a design, the good news is that these vanities can be customized with the cut and shape that meet your needs and tastes! They can also serve as the focal point of your bathroom space and become a beautiful accent piece that will catch the eye, regardless of the design.
When it comes to bathroom renovations, you can't forget the maintenance required to keep your space in good condition. Bathroom vanities provide the added benefit of making the upkeep of your vanity and entire bathroom space much easier. With the extra storage and free space, there is more room to clean your bathroom and more importantly less clutter to pick up after on a regular basis. This can make caring for your bathroom less stressful and accommodate busy lifestyles.
Ready to add a vanity to your bathroom? Contact Signature Kitchen & Bath in St. Louis to schedule a free consultation.