Contact Us
Ready to serve you with 3 Showroom Locations
throughout the St. Louis Area.
Whether you want to completely remodel your kitchen or just need a new bathroom vanity, Signature Kitchen & Bath has the solution for you. Each of our three area locations houses an extensive design showroom that displays complete kitchens and bathrooms utilizing the latest styles of cabinets, countertops, sinks, faucets, tile and other quality products.
Design Showrooms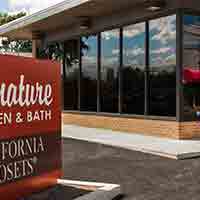 Rockhill
Design Center & Showroom
9701 Manchester Rd.
St. Louis, MO 63119
636.720.0451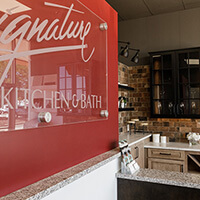 West County
Design Center & Showroom
14208 Manchester Rd.
Manchester, MO 63011
636.230.6400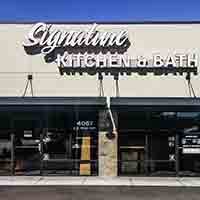 St. Peters
Design Center & Showroom
4067 N. St. Peters Pkwy.
St. Peters, MO 63304
636.926.2414
Showroom & Warehouse Hours
Design Centers & Showrooms
Monday: 9:00am - 5:00pm
Tuesday: 9:00am - 7:00pm
Wednesday: 9:00am - 5:00pm
Thursday: 9:00am - 5:00pm
Friday: 9:00am - 5:00pm
Saturday: 9:00am - 3:00pm
Sunday: Closed
Warehouse
Lami Wood Products
Monday – Friday: 8:00am - 4:00pm
Saturday & Sunday: Closed
(By appointment only)