Kitchen & Bath Remodeling To Fit Your Retirement
Retiring for some may mean relocating to somewhere new or to a different house, but for many, retiring in the St. Louis home they've enjoyed so many memories in is much more comforting. Rightfully so, retirement means spending much more time at home so it is important that your home is equipped to retire with you. Now is the perfect time for the kitchen or bath remodel you've been dreaming of for years. Signature Kitchen & Bath has put together a few tips to keep in mind to ensure your kitchen or bath remodel is safe, functional, and beautiful as you approach your last days of work.
Allow Yourself Extra Space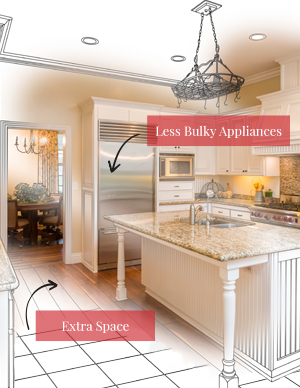 Keeping safety in mind throughout your retirement remodeling is key when making decisions. Allowing yourself more room to maneuver through your kitchen or bath will prevent future falls or accidents due to a crammed space.
When choosing items such as a new refrigerator, the less bulky, the better to make the kitchen area more spacious yet modern looking. In terms of your bathroom, selecting a walk-in shower or bathtub makes for more efficient space, and provides easy access for entry.
Keep Height and Depth In Mind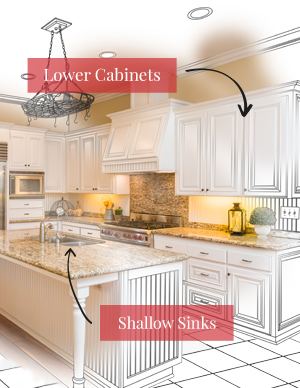 With age comes the need to accommodate your body's well-being. When it comes to installing fresh cabinetry in your kitchen or bath, remember to lower them at least three inches than normal to reduce the pains of continuously reaching and extending your body's muscles uncomfortably.
Similarly, when selecting a new sink you may be tempted to choose a deep sink. However, a sink that isn't quite as deep reduces back pain caused from hunching over to accommodate a deep sink.
Correct Tile and Lighting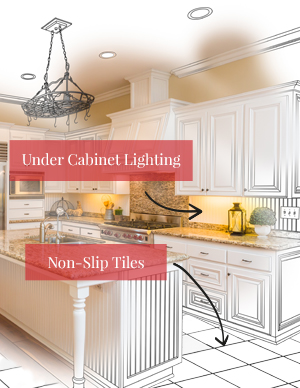 Another preventative measure to take when planning your kitchen or bathroom remodel is to go with smaller, non-slip tiles so that when water lands on the floor, it is not near as slippery. Thankfully, there are a wide range of tile selections to choose from to make your remodeled floors unique to your style preference.
Choosing the correct lighting is a similar task in which you want to limit the amount of eye straining required to see throughout the evenings in your kitchen or bath. Selecting lighting that illuminates your most used areas of the kitchen and bath is important to ensure functionality at all times of the day or night. Some even consider subtle lighting underneath cabinets for their optimal lighting situation. Of course, making the most of your natural lighting situation by combining with proper lighting fixtures is always a budget-friendly and scenic choice.
If you are approaching retirement and are ready to remodel your kitchen and bath to fit your new lifestyle, contact us to schedule a free design consultation. Our professional design team at Signature Kitchen & Bath is happy to answer any questions you may have.