Cabinet Door Styles in St. Louis, Missouri
Ready to serve you with 3 Showroom Locations
throughout the St. Louis Area.
Find the perfect look for your kitchen or bathroom today with Signature Kitchen & Bath's stunning cabinet door styles. Whether you're looking for something traditional, contemporary or rustic, we offer a variety of unique cabinet door styles to work with virtually any design preference and theme for a kitchen or bathroom space that's just right for you.
We carry a range of flat, raised, slab, mullion and accent cabinet door styles to meet your personal tastes and needs. When choosing your cabinet doors, it is important to consider the desired look and feel of your bathroom or kitchen cabinets. At Signature Kitchen & Bath, our team of professional designers are here to help you select kitchen and bathroom cabinets that are right for you – ensuring that your cabinet door style selection adheres to your overall kitchen and bathroom aesthetic and design preferences.
For more information or to schedule your Free Consultation with one of our talented designers, call us at 636.720.0451 or fill out our Contact form today. And feel free to Visit Our Showrooms to explore more options. We are here to put your Signature on a new kitchen or bathroom!
Flat Panel & Shaker Cabinet Doors
Explore timeless design and beauty with flat panel cabinets doors from Signature Kitchen & Bath. With a straight-forward design, flat panel cabinet doors, often referred to as shaker cabinets or recessed cabinets, have a "sunken" center panel that looks as though the border is a "picture frame," rather than having a raised or contoured surface.
The simplicity of this type of cabinet door style offers a clean design and sleek lines with flexible style. They are extremely adaptable in that they can support a variety of details, making them perfect for traditional, transitional or modern kitchens and bathrooms, which is why they are often recommended for those who cannot commit to a specific design theme.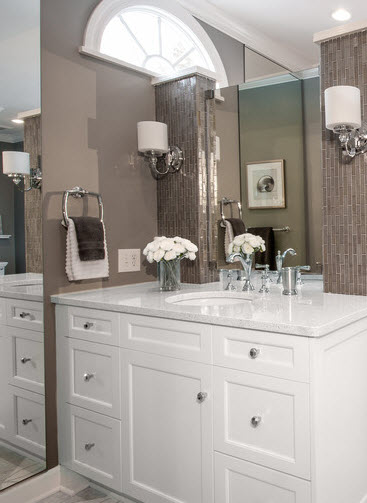 Raised Panel Cabinet Doors
Display an elegant, inviting and warm crispness in your kitchen or bathroom with raised panel cabinet doors. Raised panel cabinets feature a raised center panel with a more decorative profile or contour compared to a recessed panel door.
Designed to stand the test of time, raised panel cabinet doors are most often used in traditional style themes. The raised center panel can be arched, cathedral and square shaped to define your cabinet doors with a custom look and feel that also brings depth to the cabinetry.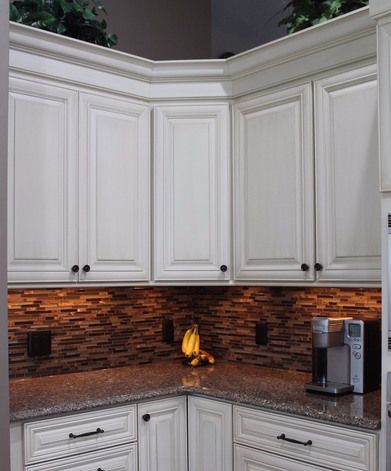 Slab Cabinet Doors
Slab cabinet doors are flat, solid doors with no raised or recessed frames or panels. This cabinet door style is typically selected for contemporary designs as it conveys a sleek, modern look. The smooth surfaces create a vision of open space combined with everyday practicality.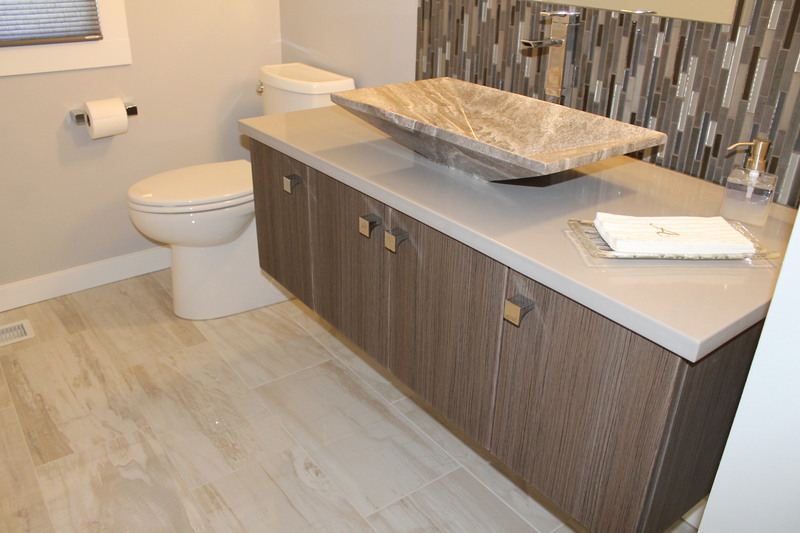 Accent & Mullion Cabinet Doors
Showcase beautiful dinnerware in your kitchen or linens in your bathroom by incorporating timeless mullion doors into your cabinetry design. A mullion cabinet door features glass panels – rather than solid wood – that have thin strips of dividing wood or aluminum, known as mullions, used to separate the panes of the glass in the cabinet door and also to create grids – similar to ones found on window panes.
Mullion cabinet doors are both stylish and functional and used to create decorative focal points or accents that highlight certain areas of your cabinetry. They can be combined with a number of other doors styles, which allows you to conceal some items while displaying others to keep them clean and protected, such as decorative glassware, cookware and precious china in kitchens or linens, potpourri and other objects in bathrooms.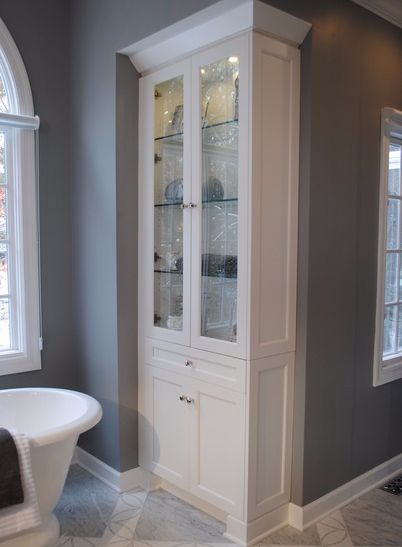 Highend Brands